Fri, March 22.
Arrived at Panamint Springs 
Resort
 @ 4:00.  Perfect Weather.  
There were 4 MMC members (Myself, Kim, Russ, Johnston) and 2 Guests (Joe, Tom).  
Joe was sporting a rented KLR with bald tire, and Tom was sporting a yellow DRZ with truck-horn upgrade.  We had beers and talked shop till about 11...  then off to bed.  
I was hoping for a problem free trip, but found it difficult to sleep.  
If I had known then what I know now I 
wouldn't
 have gotten any.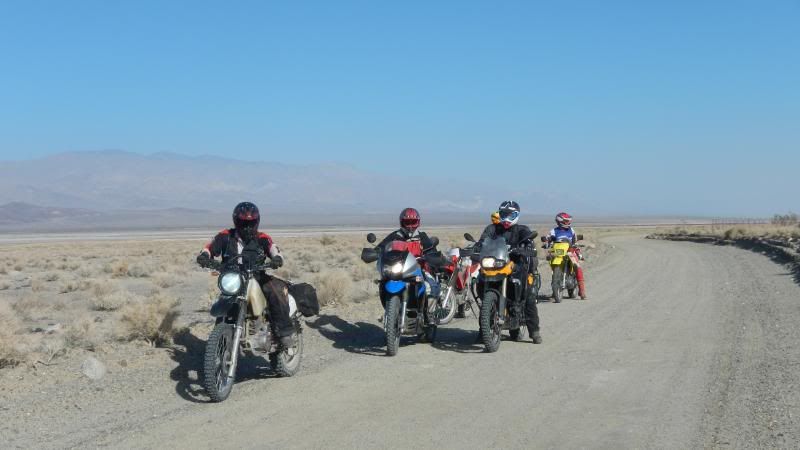 Sat, March 23.
PART 1:
 Early rise at 6:30, Perfect Weather still.  We packed up camp and had a buffet breakfast over at the Panamint Springs Resort - only $10.00.  We had 172 miles planned for the day, so we were on the road by 8 sharp.  
The riding was easy over to Ball-rat... 
We then headed up Gohler wash, and the heavy heavy's started struggling - breaking shit.  Blinkers, mirrors, fairings...  Russ mentioning, "I've never seen so much carnage before."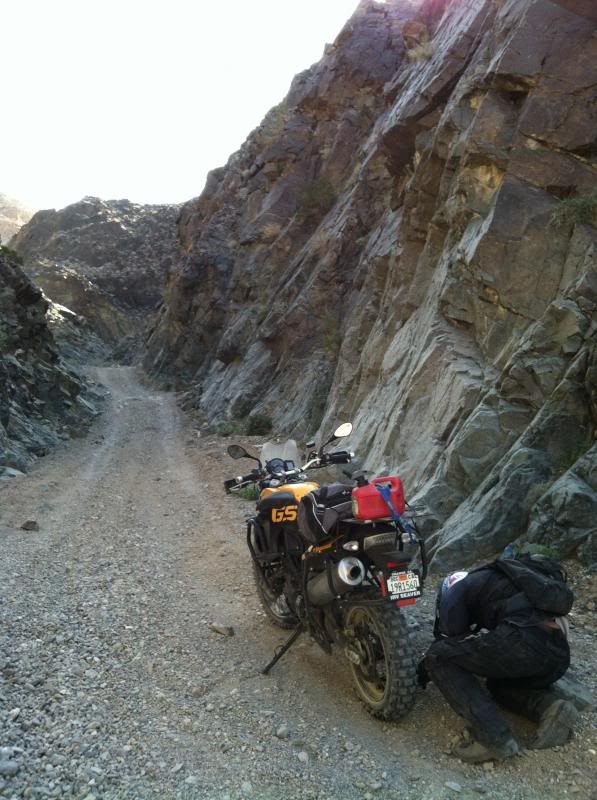 By the time we stopped for our 10 min lunch break at the Geologist Cabin, the heavy heavy's were pretty tired worn out...  but we pushed on.  

5 miles later, there was no highway in sight, and Tom was down - getting crossed-up after hitting a hidden washout (Tom is NOT pictured above...).  
At the time; by the protrusion of bone underneath his skin, it appeared that his collarbone was broken.  We later learned that it wasn't a bone, but a tendon that was torn from its location as well as a couple fractured ribs.  It was an unfortunate situation, and Tom 
couldn't
 ride any further.  
A plan was set to ride down to Furnace Creek for help (Ranger or SAR or?); but before we could leave, an 80 series land cruiser happened by (Friends of the Inyo sticker on the back) and offered Tom a ride to civilization. We loaded Tom into the FOI Cruiser, and stashed the DRZ behind some bushes.  
In furnace creek (2pm), another plan was set:  Russ, Kim, and myself would continue on with the ride (Beatty via Echo Cyn), while Johnston and Joe would break off, head back to Panamint - grab a truck to retrieve the DRZ.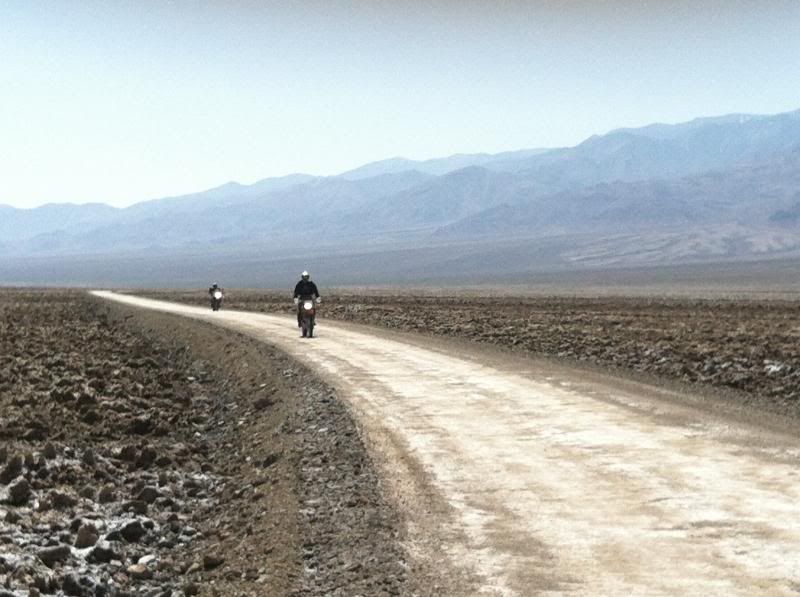 After 
retrieving
 the bike, Joe and Tom would head home and to a hospital for x-rays.  Johnston promised to meet up with us in Beatty late that evening...  We doubted we'd see him again that trip.  
PART 2
:  After a quick lunch and an ice cold tall can, Russ, Kim and myself headed over to Echo Cyn.  Echo Cyn was fun, full of rocks and more rocks...  We made it through without incident.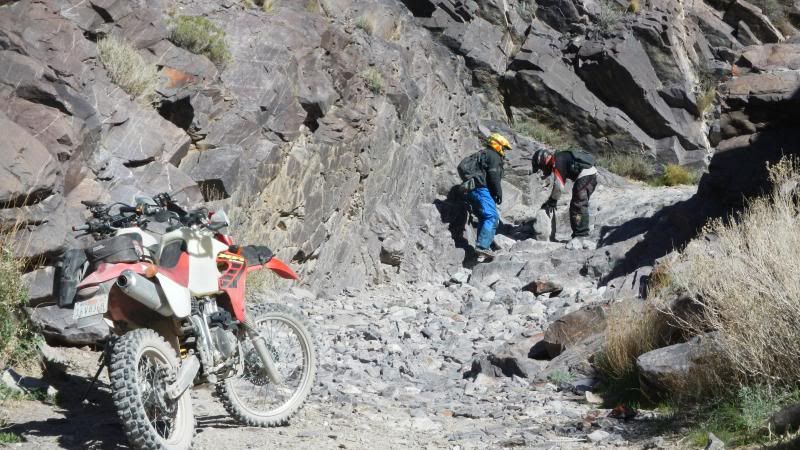 Once in the Amargosa Valley, we did a 15 mile section of the old Vegas to Reno racecourse.  Lots of super fast bike lines.  
It was a great section to finish the day with, and for a time it helped us forget about our troubled start.  
We were at the Stagecoach Inn and Casino by 5pm.  9 hours on the bike, and 172.4 miles for the day - 35 was highway.  Drinking beer was next, and Russ was a thirsty. There was talk of going to bed early, but that idea was quickly squashed by the late-night arrival of Johnston (10pm)!!  
Johnston was tired, cold and hungy; and everyone was re-energized & happy to be reunited (now only Mammoth M/C members).  Stories and drinks flowed for another hour or so, then off to the Texas hold-em table for cards and more drinks. 
 Some stayed up much later than others... 
Denny's breakfast at 8am, and on the road by 9.  At this point, there were 4 Mammoth M/C members and 0 guests.  Russ was feeling a little slow, but on the 650R he wasn't.   Our first stop was Rhyolite Ghost Town,
and then Titus Cyn.. Russ explained to me that, "We're a respectable club, no roosting cars on Titus Cyn Road."  

After Titus, we headed towards the Ubehebe Crater,
and then the long ride over to the Racetrack.  
There were lots of tracks from idiot tourists doing donuts on drylake (no motorcycle tracks). 

 After taking a short break at the racetrack, we made the trek down Lippincott Mine Road.  
On a sketchy part of Lippincott there was a guy on a VStroom (or whatever the F you call it) frozen to his bike with fear, and another guy standing next to a 250 Yamaha taking his clothes off (looked like he was wearing a skiing jumpsuit or something).  There were 2 more fellas on KTM's further down the cyn, and they were pissed.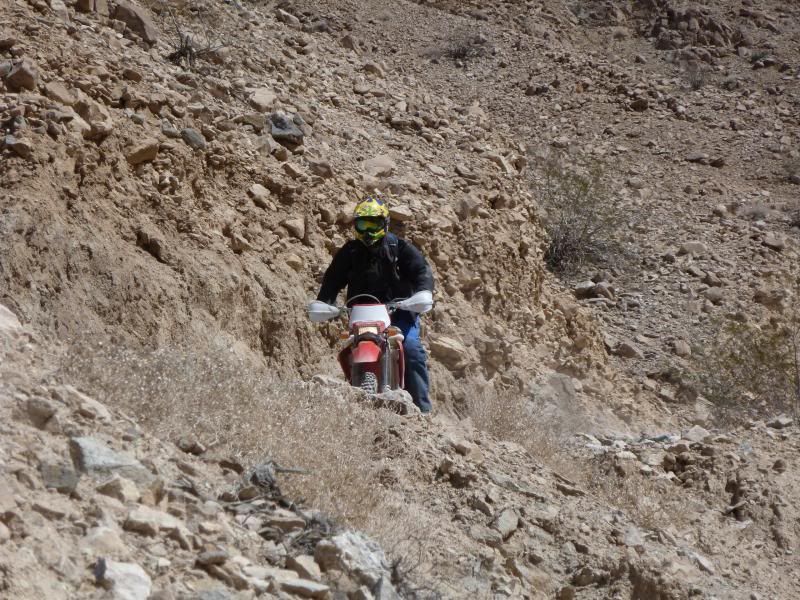 Nothing to see here, so we kept moving.   
The Saline Valley road was in bad shape - Giant washouts and boulders everywhere.  We pushed through the rocks, on to the highway.  We were back at Panamint by 4pm.  7 hours on the bike, and 137 miles for the day.  
It was a good day, and our DV adventure was over.
Hope you enjoyed our Ride Report.  Youtube highlight vid coming soon!!